Puriti Labs CBD Equine Tincture, Zero THC, 5000mg, 4oz "50 Day Supply" EQUINE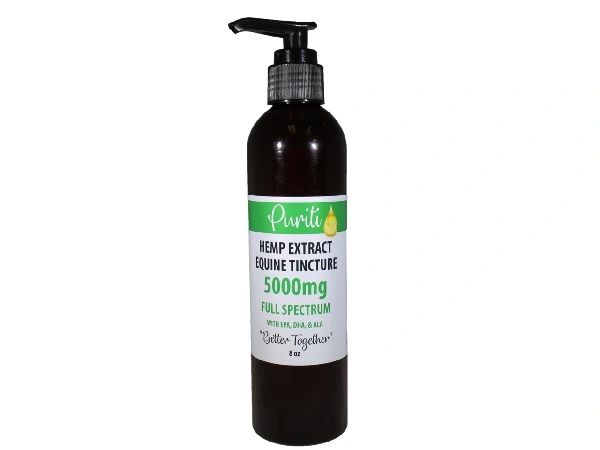 Puriti Labs CBD Equine Tincture, Zero THC, 5000mg, 4oz "50 Day Supply" EQUINE
Puriti Labs CBD Equine Tincture, Zero THC, 5000mg, 4oz "50 Day Supply"
EQUINE
Puriti Full Spectrum Equine Tincture combines the benefits of our Full Spectrum Industrial Hemp extract with Wild Fish Oil, soy oil, and other vitamins and nutrients with no additional flavors in an 8 oz container.  This equine tincture is loaded with a full complement of essential amino acids, vitamins, nutrients, and full spectrum cannabinoids.  This addition to your horse's current diet can help alleviate joint issues, stall anxiety, and improve the condition of the skin and coat.
All of our Full Spectrum hemp oils are extracted on-site from locally sourced, all-natural hemp. These oils contain the full cannabinoid profile, as well as the terpene profile responsible for the tastes and odors associated with the plant. The taste can be described as herbal and earthy.
No additional aromas
Sourced from 100% locally grown hemp
Non-GMO
Lab tested for safety, purity, and potency
Certified to be free from any pesticides, herbicides, solvents, heavy metals, or chemical fertilizers
Non-intoxicating hemp formula (less than 0.3% THC)
Manufactured in Troutman, North Carolina ONLY utilizing industrial hemp products grown in the United States to support our farmers and their families. Every product contains a lot number and QR code that allows the consumer to review the third-party laboratory analysis of each batch of product. We take no shortcuts in our process as our mission is to provide the consumer with a product that they can trust is safe. Accountability is our priority. From seed to shelf is our commitment to you.
This equine tincture contains 5000 mg of full spectrum cannabanoids.
 Ingredients:
Puriti Full Spectrum Industrial Hemp Extract, Premium, Organic Non-GMO Soy Oil, 1,200 IU all natural vitamin D-a-TO-Copherol acetate (used as a natural preservative) per daily dose, human grade deep water wild caught fish oil, all essential animo acids, other natural ingredients. Contains a scientific balance of all three chains of Omega 3's (EPA, DHA, and ALA), Omega 6 and Omega 9, unsaturated fats, vitamin E and other nutrients.
**CAN BE SOLD TO ANYONE, NO LICENSE REQUIRED**
443-552-7338
a1dentalsupply@gmail.com
"30 YEARS IN BUSINESS"
why pay more, lowest price guaranteed!!
Reviews