Puriti Labs Tincture, Cannabidiol (CBD) Isolate, THC Free, 2000mg, Natural, 30mL TIN2000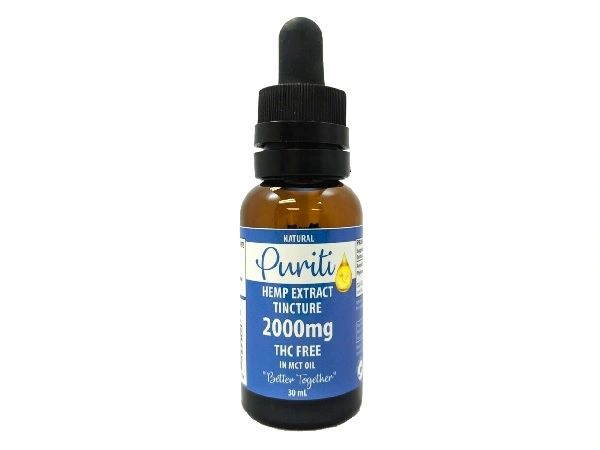 Puriti Labs Tincture, Cannabidiol (CBD) Isolate, THC Free, 2000mg, Natural, 30mL TIN2000
Puriti Labs Tincture, Cannabidiol (CBD) Isolate, THC Free, 2000mg, Natural, 30mL
TIN2000
Our 2000 mg THC Free Natural Tincture provides all the benefits of cannabidiol isolate dispersed in MCT oil with no added flavoring.
Virtually odorless and flavorless
Sourced from 100% USA grown hemp
Non-GMO
Lab tested for safety, purity, and potency
Certified to be free from any pesticides, herbicides, solvents, heavy metals, or chemical fertilizers
* These oils are NOT designed for use with vaporizers, vape pens, e-cigarettes, or any other vaping device. *
Manufactured in Troutman, North Carolina ONLY utilizing industrial hemp products grown in the United States to support our farmers and their families. Every product contains a lot number and QR code that allows the consumer to review the third-party laboratory analysis of each batch of product. We take no shortcuts in our process as our mission is to provide the consumer with a product that they can trust is safe. Accountability is our priority. From seed to shelf is our commitment to you.
This tincture contains 2000 mg of cannabidiol isolate.
 Ingredients:
Cannabidiol isolate and Medium Chain Triglycerides from Coconut Oil
**CAN BE SOLD TO ANYONE, NO LICENSE REQUIRED**
443-552-7338
a1dentalsupply@gmail.com
"30 YEARS IN BUSINESS"
why pay more, lowest price guaranteed!!
Reviews